Novice Welfare

Trial of Sword
Complete corresponding Main Story Stage to win rewards!
Materials for upgrading Soul Spirit Costume of Alve, you have it here!

Goddess' 8-day Romance
Login everyday to win Goddess' exclusive rewards!
Chance to get Royal Summon Badge and 5-Star fire character: Rabis!

Hero's proof
Pass stages to win Star Gem and Jade within 15 days!
Let's be stronger from now!
Ultimate Blessing
Enhance your characters and raise their level!
Complete the targets to claim great rewards!

Costume Rebate
Enhance your costumes and reinforce your power!
Complete the targets to claim great rewards!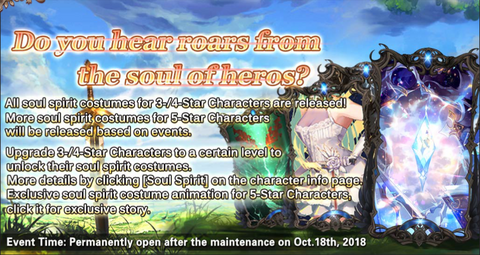 Roars from the soul
3 Stars / 4 Stars characters all have their own Soul Costume!
Activate Soul Costume for a stronger team!
Current Event

First Recharge to win Great rewards!
Get Stargems and 4-Star healer: Nefeeru!


Fireworks with TOE & Blazblue
New year fireworks for celebrating the collab with TOE and Blazble!
Collect special Fireworks from battles of collab events for valuble items.
Side Story
Collab Exclusive Side Story - Visitor Beyond Blazblue! is coming!!!
Under the Special Soul Essence Disaster, what on earth is lying in wait for Alven.... Event time: 2018.12.27-2019.01.20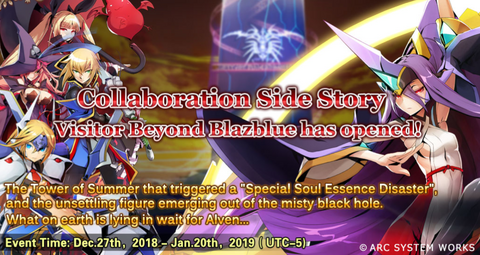 New Side Story - The Grand Summer Spirit's Masterpiece (1) is coming!!!
Discover the story happened in the Tower of Seasons! Event time: 2018.11.1-2018.11.18 (Already finished)
Deposed God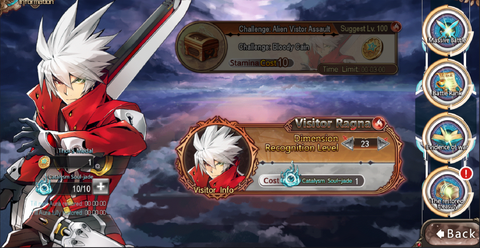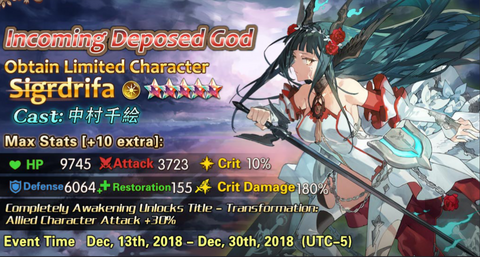 Deposed God Sigrdrifa Assault
The existence that once threatened Land or Erin and fight against God revived.
5-Star Light Deposed God Sigrdrifa has come!
Event Time: 2018.12.13 - 2018.12.30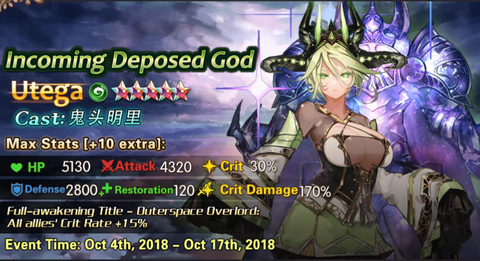 Deposed God Assault
5-Star Wind Deposed God Utega has come!
Assault Utega for more Divine Token to draw it from Restored Vault!
Events in 2018
September Event
October Event
November Event
December Event